If you're not familiar with ColorZilla, it's a Firefox extension I wrote a while back to help me with my web design and development tasks. Over the years, it became quite popular with web developers and designers.
Anyway, over the course of this past year I added a few new features to ColorZilla (mainly because I needed them for my own work

), but because 2007 has been a very busy year for me, I just couldn't find the time to properly test and release the new stuff to the public. Now, with Firefox 3 just around the corner, I finally took a bit of time to put everything together and release ColorZilla v2.
So, here's what's new in ColorZilla v2:
Webpage DOM Color Analyzer
Basically, this feature started with several simple questions – what colors are in use on any given Web page? What HTML elements use them and what CSS rules define those colors? So, Webpage DOM Color Analyzer analyzes a Web page and produces a palette of all the colors on that page. By hovering on any color, you can see what elements use that color, and by clicking on a color you can see a detailed listing of all the CSS rules that apply that color to DOM elements. You can even click on a CSS rule have ColorZilla open the corresponding style sheet file with the rule highlighted.
You can save the page colors as a ColorZilla palette, or open the palette in ColorZilla Online Viewer.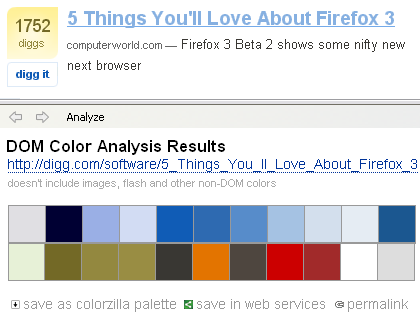 ColorZilla Online Palette Viewer
The online palette viewer is a simple webapp that can be used to view a color palette, bookmark it and share it using any number of bookmarking services such as del.icio.us, Google Bookmarks etc.
It works by providing a simple semantic URL that describes a set of colors:
http://colorzilla.com/colors/COLOR_1+COLOR_2...COLOR_N[/PALETTE_NAME]
Each color should be specified in a hex notation similarly to CSS, so for example red is FF0000 and yellow is FFFF00. The 'palette name' portion of the URL is optional.
Here's an example of a palette URL:
http://colorzilla.com/colors/ff0000+00ff00+0000ff/Simple+RGB+Palette
Click here for an additional example.
When viewing palettes online, you get an online eyedropper (that works in all browsers!) that displays color information in many different formats for any color in the palette.
The online viewer can be opened from the ColorZilla Webpage Color Analyzer, or from the ColorZilla Palette Viewer dialog. The simple format of its URL also allows using it with any other application or Web service – all the application has to do is to generate a list of colors, append it to colozilla.com URL and launch that URL in a browser.

Additional features
Firefox 3 has a new Full Page Zoom functionality that allows viewing pages at any zoom level and handles both text and images very nicely. With Firefox 3 ColorZilla will use this new functionality for its internal zoomer.
Firebug support – until now, ColorZilla allowed you to quickly open the selected element in Dom Inspector. Now, if you have Firebug installed, it will also allow you to quickly open it in Firebug.
Ubuntu support was added. Basically, because Ubuntu's Firefox was compiled using a slightly different compiler, ColorZilla eyedropper didn't work unless you installed an official Firefox build from Mozilla. This version solves this problem by providing two versions of the eyedropper module, one built with the newer compiler (gcc4) and one with the older one.
ColorZilla is now compatible with Firefox 3
3 new languages were added – Indonesian, Korean, Norwegian. Thanks to the BabelZilla team!
ColorZilla v2 (v1.9) is still in beta, but should be stable enough for everyone to try. Check it out and let me know what you think